In June 2022 the US Biden Administration launched a new "Federal-State Offshore Wind Implementation Partnership" to support the continued expansion of offshore wind in the USA [1]. One announcement of particular interest was the designation of offshore wind vessels as Vessels of National Interest by the Department of Transportation's Maritime Administration. Offshore wind projects require a diverse fleet of vessels, but according to a recent US National Renewable Energy Laboratory report, the availability of these vessels represents a risk to the US national target of 30 GW by 2030.
OCA's Alasdair Hinton has taken a closer look at recent growth in offshore wind technology and vessel fleet, projections on future vessel supply & demand, how the Biden Administration's announcement should help grow the US offshore wind fleet, and the challenges in implementing the required growth.
Offshore wind turbines and structures: Substantial and rapid growth in recent years
Those the rapid growth in offshore wind over the past few years will no doubt be familiar with the massive upscaling of wind turbine generators (WTG). Rated generation capacity and dimensions have seemingly increased from one offshore installation campaign to the next.
For example, in December 2021, Cadeler's Wind Osprey jack-up installation vessel erected the first Vestas V164-10.0 MW WTG at the Seagreen OWF, Scottish North Sea [2]. At 10 MW rated capacity, this was the most powerful commercial turbine in Europe at the time of install. Fast forward to April 2022 and the same vessel installed the first Siemens Gamesa SG 11.0-200 DD WTG at the Hollandse Kust Zuid OWF, Dutch North Sea [3]. At 11 MW rated capacity, the SG 11.0-200 DD ended the V164-10.0 MW's short reign of just four months.
It is not just the WTGs that are getting bigger. At 5,100 tonnes [4], the steel jacket that supports the Seagreen offshore substation is roughly the weight of 28 Boeing 747s. At 2,000 tonnes weight, 100m length and 9.4m diameter [5], the steel monopiles that support the WTGs at Arcadis Ost 1 OWF, German Baltic Sea, are comparable to London's Big Ben at 96m tall and 12m square base. For more information on the size expansion of WTGs and the need for larger installation vessels, see OCA's article from September 2021 [6].
Offshore wind vessels: A diverse and specialized fleet
All these immense structures and vast wind farms need equally immense vessels to construct, maintain and operate them offshore safely and efficiently. Some of these vessels, such as monohull crane vessel Seaway Yudin and Heerema's semi-submersible crane vessel Thialf, both built in 1985, started serving the wider offshore energy and marine construction industries 6 years before the birth of offshore wind at Vindeby in 1991.
The pace of buildout of offshore wind has driven demand for new vessels, both floating and jack-ups. DEME's floating monohull lift vessel Orion recently entered service with her 5,000-tonne crane and Jan De Nul will soon welcome their new jack-up wind turbine installation vessel (WTIV) Voltaire and monohull crane vessel Les Alizés to their fleet. With Voltaire's hull elevated to the top of her legs, her 3,000-tonne crane will reach 1m higher than Paris' Eiffel Tower [7]. Other contractors including Seaway 7, CSBC-DEME, Cadeler, Seajacks, Van Oord, Shimizu & Penta-Ocean also have new installation vessels under construction, while several other vessels such as Cadeler's O-Class and Fred Olsen Windcarrier's Tern-class have either recently received, or will soon receive, main crane [8]. In the USA, the first Jones Act compliant WTIV, Charybdis, is under construction in Texas.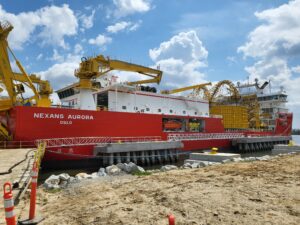 It is not just WTG and foundation assets that are requiring new . The increase in WTG rated capacity, increase in overall wind farm generation capacity and increase in distance from shore has resulted in more purpose-built cable lay vessels entering the market. These include the Prysmian Leonardo da Vinci, with two carousels (rotating platforms for transporting and deploying cable products) of 7,000- and 10,000-tonne capacity [9], and the Nexans Aurora, with her 10,000-tonne carousel [10], which recently received the first load out of a US-fabricated export cable in Goose Creek, South Carolina, under the watchful eye of OCA's local team.
In the operations & maintenance space, the global service operations vessel fleet continues to to keep pace with the ever-increasing number of offshore wind farms entering their operational life. The latest purpose-built vessels feature sophisticated tooling such as "walk to work" motion-compensated gangways and 3D motion compensated cranes to counteract vessel motions for safe transfer of personnel and equipment to fixed structures [11].
On top of the main installation and O&M assets, there are a host of other vessels required to execute an offshore wind construction project. These include survey vessels, rock installation vessels, feeder barges / vessels, multi-purpose construction support vessels and a variety of tug types.
Vessel availability: Will demand outpace supply?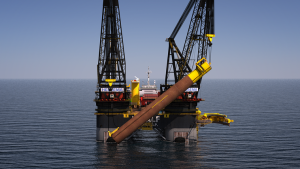 Industry research suggests that demand will outpace supply of capable vessels. Some of the most recent research from Rystad Energy suggests this may come as early as 2024 [12]. The projections pose many questions for the offshore installation and O&M markets in the coming years. In the event of unforeseen vessel downtime, will contingency scenarios be possible considering the projected utilization level of the global fleet? Will shipyards maintain the pace required to deliver their offshore wind order books alongside the demands of other maritime industries? Will we see developers adopting a different procurement strategy, moving towards longer-term strategic agreements, like that which Heerema Marine Contractors recently signed with Equinor & bp [13], as opposed to project-to-project charters? How feasible are these agreements in fluctuating legislative environments like the US?
The precursor to the US Department of Transportation Maritime Administration's (MARAD) designation of offshore wind vessels as Vessels of National Interest was a US National Renewable Energy Laboratory (NREL) report first published in March 2022 [14], which qualitatively classified all vessels based on cost, demand and availability. All vessel types, except for tugs and ancillary support vessels, are deemed to pose at least a "moderate" risk to the national target of 30 GW by 2030, with US-dedicated WTIVs representing a "high" risk. The designation as Vessels of National Interest by MARAD makes offshore wind vessels eligible for Title XI Federal Ship Financing Program [15]. The program is designed to facilitate US shipowners cost-effectively purchasing US-built vessels, and US shipyards modernizing their yards to deliver the vessels, through long-term debt facilities at, according to MARAD, longer terms and lower interest rates than private loans. The designation also means that applications for Title XI government-backed financial support for offshore wind vessels will be prioritized and expedited by MARAD. The move is intended to promote growth of the US-built offshore wind fleet.
From policy to action: Challenges in implementation
The US offshore wind industry has huge potential for growth with commitment to creating a domestic supply chain. This will support coastal communities and the wider US economy. The earliest commercial projects in the US are now entering construction, so this supply chain establishment must contend with a changing regulatory and legal environment while the US market matures. It needs political and financial support to reach its targets, much like the European market has had for the last twenty years.
In the short term, importance will be on striking the right balance between facilitating early project development and execution while maintaining longer term benefit for the US supply chain. While the MARAD designation is a productive enabler for expanding the US fleet, recent Customs and Border Protection rulings have both confirmed and altered industry's interpretation of the Jones Act for the use of domestic and foreign vessels for various construction activities. There remains uncertainty surrounding labor and vessel crewing regulations as US laws adapt as the offshore wind industry expands. Future US offshore wind projects will hopefully benefit from a more defined regulatory and legal environment as these topics are addressed and the market benefits from experience on Vineyard Wind 1 and other early movers.
Conclusion
Offshore wind is growing in all forms, placing larger wind farms much further from shore across an ever-increasing geographical reach. Vessels are a key aspect of the supply chain with documented concern over sufficient supply to meet expected demand. Recent US policy announcements are a move in the right direction, but the challenges facing the offshore wind industry in the US remain multi-faceted. Applying experience and lessons learned from early US projects and the European market, which has previously faced many of these challenges, will be key to minimizing risk and creating a valuable regulatory framework. This will promote local US content and create sustainable social and economic benefits, alongside the environmental wins from a clean, renewable and secure energy supply.
References
[1] https://www.whitehouse.gov/briefing-room/statements-releases/2022/06/23/fact-sheet-biden-administration-launches-new-federal-state-offshore-wind-partnership-to-grow-american-made-clean-energy/
[2] https://www.seagreenwindenergy.com/post/first-turbine-up-at-1-1gw-seagreen
[3] https://group.vattenfall.com/press-and-media/newsroom/2022/first-wind-turbine-installed-in-hollandse-kust-zuid
[4] https://www.seagreenwindenergy.com/post/seagreen-reaches-another-milestone-as-5-100-tonne-jacket-installed
[5]  https://parkwind.eu/news/first-load-out-arcadisost1
[6] https://www.linkedin.com/pulse/larger-wind-turbines-what-does-mean-offshore-/
[7] https://www.jandenul.com/news/equipped-crane-and-legs
[8]https://www.offshore-mag.com/rigs-vessels/article/14224067/offshore-wind-market-propels-demand-for-heavylift-vessels
[9]https://www.prysmiangroup.com/en/insight/projects/prysmian-presents-most-advanced-cable-laying-vessel-world
[10]https://www.nexans.com/en/business/power-generation-transmission/subsea-interconnectors/CLV-Nexans-Aurora.html
[11] https://eddawind.com/vessels/edda-mistral/
[12]https://www.rystadenergy.com/newsevents/news/press-releases/Super-sized-offshore-wind-installations-could-suffer-bottlenecks-from-2024-as-vessels-remain-lightweight/
[13]https://www.heerema.com/news/heerema-selected-for-a-strategic-supplier-agreement-with-equinor-and-bp-for-the-us-east-coast
[14] https://www.nrel.gov/docs/fy22osti/81602.pdf
[15]https://maritime.dot.gov/newsroom/dot-joins-new-federal-state-partnership-expand-domestic-offshore-wind-supply-chain