With several projects in both Europe and the US now reaching the highly complex construction phase, getting Vessel Mobilization right is essential.
OCA's Lead Consultant Angelo Vallozzi has over 11 years' experience in the offshore wind industry and has extensive knowledge of managing T&I campaigns. In part 1 of his article "Is your vessel ready for Offshore Construction?", he shares his thoughts on why Vessel Mobilization is important and where it fits in the project timeline.
After many months or years spent on offshore wind farm design and preparation, and following the long and complex fabrication process, a project finally enters the offshore construction phase. At this point all the transport and installation activities will be performed until all foundations, turbines, cables and substations are built and ready to operate.
A variety of different vessels are needed for construction, starting from the main installation vessels (e.g. heavy lift crane vessels for installation of foundations and WTG components, cable laying vessels, etc.),  and including a number of other vessels, some being an integral part of the transport and installation fleet (cargo barges, towing & anchor handling tugs, etc.), others used for assisting operations like crew transfer vessels, supply vessels and other similar types.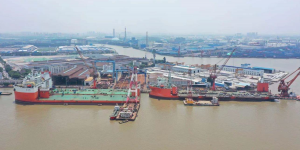 The process of preparing all the above vessels for the performance of their assigned scope is called Vessel Mobilization.
At first sight Vessel Mobilization could appear as a rather simple and straightforward operation, consisting of merely loading and securing the required equipment in position on the vessel deck, performing some tests, mobilizing the crew and then sailing to the offshore site. Unfortunately, it is much easier said than done. All mobilizations will at some point face a series of challenges.
To highlight the importance and complexity of the vessel mobilization phase, it can be observed that this is the first moment in the entire project when:
the full transport and installation engineering and preparation activities which have taken place over the years start to take shape on an actual work site.
the project organization has its first direct contact with the marine and offshore construction environment.
the vast majority of disciplines, scopes and stakeholders are present and directly involved in the work simultaneously and in the same place.
And it goes without saying, as vessel mobilization is the first step of the offshore construction works, having a proper start is fundamental and will benefit the full offshore construction scope.