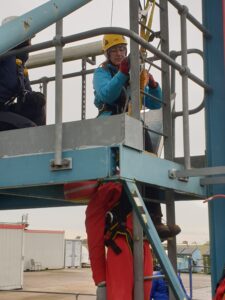 Arianna Sawyer, Robbie Williams-Crew and Nick Wordsworth were in Norwich, England last week completing their Global Wind Organisation training at Petans Limited.
The training and certification program provides the accepted standard for participants in the offshore wind industry across the globe and covers Working at Height, First Aid, Manual Handling, First Aid and Sea Survival. The course instructors at Petans were very engaging and willing to share relevant experiences, as were the other participants (particular thanks to Peter Sommerfield. Tech IOSH and Paul Thompson), which made the training all the more valuable.
Completing or maintaining the GWO course is part of OCA's commitment to ensure that all technical employees will participate in practical offshore training. Taking the time to learn, relearn and reinforce the safety standards and best practices for offshore working is essential to make our industry ever safer. Hopefully the other courses are this much fun too!