To introduce the team in a little more detail, Project Consultant, Cameron McPartland who has worked for OCA for over 3 and half years shares a bit about his background, how he got started at OCA and his experience of working in the offshore wind industry:
Growing up in Cape Cod, I was surrounded by the fishing industry. My father was a successful sea clam fishing captain, known locally as "the Clamfather". He worked hard to provide me with opportunities that he did not have while growing up. When it came time for college, I wanted to continue my family's marine lineage in a meaningful way. My decision to attend the Massachusetts Maritime Academy provided many opportunities both onshore and offshore for me explore, as well as the ability to stay close to home in Cape Cod.
During college, I was responsible for deck operations on an offshore scallop vessel. I also, served as a foreman on commercial and residential construction projects with expertise in metal fabrication and installation. I enjoyed the roles and the valuable lessons they taught me.
During my senior year at the Massachusetts Maritime Academy, CEO Nick Wordsworth gave a presentation to my class, introducing us to OCA and the growing offshore wind market in the US. Given my background working in commercial construction and growing up immersed in the fishing industry, I was immediately interested. I had also just earned a bachelors' degree in International Maritime Business, so I thought OCA would be the perfect fit for me. I was correct. After multiple interviews with Nick, we agreed that my background and real-world experience made me an asset to OCA. I was eager to begin my career in a brand-new industry in the US, where I would have a hand in developing the US market.
My background in metal fabrication projects has given me a plethora of practical skills to call upon in project work. In my work, I've learned the value of precision and efficiency, how to never compromise on quality in the interest of time, and the rewarding feeling that comes from achieving successful project outcomes with a high performing team. OCA has afforded me the opportunity to apply my background knowledge to current projects. I'm currently working on a variety of projects where I bring expertise in performing T&I modelling and assessments across all offshore wind assets with an emphasis on offshore export cables and foundations. I also provide oversight of offshore export cable manufacturing, foundation package T&I tender reviews, as well as other technical review and contract negotiation responsibilities.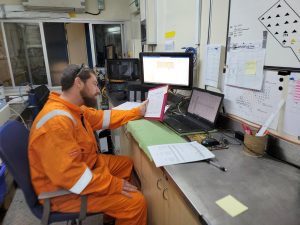 I believe that OCA's collaborative nature allows each member of the team to reach their highest potential. Something unique about our company is the motivation to upskill current employees. I have found that this creates a strong collective and feeling of growth from within the company. Every team member has visibility into what the company is doing and where the company is going which promotes a culture of inclusivity and pride. My colleagues are the reason why OCA functions so well. It has been great to meet all the new colleagues as they have joined over the years. We have amazing people which has led to amazing growth.
The offshore wind industry is filled with challenges but has proved to be an enjoyable career path for me, thus far. I have enjoyed being able to apply my existing knowledge to my work, as well as learning new things every day. This industry provides an opportunity to take part in the development of a new source of energy that will enhance capacity for generations to come and I am thrilled to a part of it.