Eileen Dillon is a recent graduate who joined OCA and the offshore wind industry in the summer of 2022. In this article, Eileen shares her reasons for choosing this career path, and what she has learnt during her first four months in her role as Project Consultant at OCA, based in New Bedford.
I graduated from the University of Rhode Island in 2020 with a bachelor's degree in Marine Affairs. I chose Marine Affairs because I have always been passionate about the coastal environment, and the degree offered a wide range of options adjacent to that. Marine Affairs is, on the most basic level, the business of the ocean. I took classes in a variety of topics including Shipping and Ports, Coastal Management, Coastal Law, Climate Change, and the Sea just to name a few. During my time at the University of Rhode Island I worked at a few environmentally focused non-profit organizations, which bolstered my passion for the sea and working towards a greater good. Rhode Island helped me to discover my passion for offshore wind, as it is located right next to the first offshore wind farm in the US, the Block Island Wind Farm. My coursework focused a lot on that, and this exposure allowed me to start to understand the future of the industry, it's potential for growth and how I could see myself fitting into it.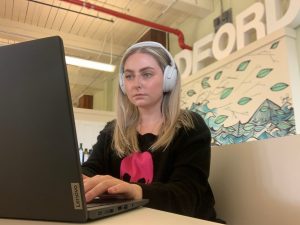 My first few months at OCA have been fast and full. Since starting, I have had lots of training and development opportunities. I have completed my OSHA 30 training, Introduction to Project Management Training, Principles of Construction Contracts, courses on Microsoft Project, and soon I will complete my Global Wind Offshore training over in Norwich, UK. This training has made me more confident as an offshore wind professional and assisted me in building up new skills and knowledge.
Since starting at OCA, I have been able to work closely with other experienced members of the team through shadowing and collaboration. I have enjoyed that OCA has paired me up to work on a project to learn more about the technical side of building and operating an offshore wind farm and that I have a direct mentor and someone whose career I can follow in the footsteps of.  Gradually, I have been able to start to apply my knowledge by assisting project managers with various tasks on a number of projects happening across the globe. I also have the flexibility to work remotely from home as well as from the Boston and New Bedford offices.  I am grateful to have found a place to work where I am being trained to fit into the rapidly growing industry and where I can learn from members of the OCA team, who are able to impart many years of experience and expertise to me. Working with them has been invaluable to my growth as a professional.
OCA has been incredibly welcoming. My manager, Jaime, has been so kind and assisted me with any issues that I have. I could not imagine a better place to begin my career. My advice for anyone looking to get into the offshore wind industry is to network, everyone seems to know everyone within the industry!