Helena joined OCA as a Lead Consultant and the Netherlands country manager. Read about her career experience so far, her areas of expertise and more about what her role at OCA involves.
I am a structural engineer. After graduating from university in the UK, I worked for a couple of years designing civil works. If I am completely honest, offshore wind was not something I had ever heard of. I started exploring jobs in oil and gas because it sounded exciting – and eventually received an offer from an offshore contractor based in the Netherlands. This was in 2012, at a time when many contractors were moving into the offshore wind market in the North Sea.
Having made the move to the Netherlands, I started working in a technical role, designing lifting rigging and grillages. Over time, I became involved in the preparation of increasingly large offshore wind projects and I would spend a lot of days (and nights!) working offshore on heavy lift vessels.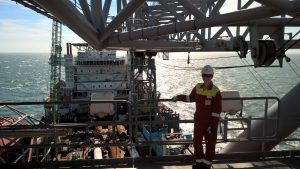 After some time with the company, I joined the tender department focusing exclusively on offshore wind projects. Working in tenders can be an emotional rollercoaster – amazing when you win a job and deeply disappointing when you lose one. However, I really enjoyed the combination of technical and commercial aspects of that role. During this time, I saw the offshore wind industry expand into new markets, such as the US and Asia, and while the demand was increasing, so was the competition.
I joined OCA in the spring of 2022 and like other things in my career, it was a happy accident. Having spent my whole career working for large employers, it was quite a change to move to a small company. I love the independence, flexibility, and ability to directly influence the business. I also like the fact that we all know each other! Everybody has a slightly different background and expertise, so even though we are a small team, we can cover a lot of ground.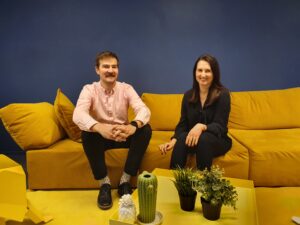 My job at OCA is split between two different roles. As a lead consultant, I support clients using my technical experience in foundation and platform installation, as well as my tenders experience. I also appreciate being able to expand my knowledge to new areas, such as floating wind and WTG installation.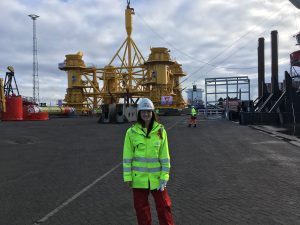 The other part of my role is country manager for the Netherlands. My tasks are very varied. I have been involved with the operational side of establishing our Dutch office, such as finding an office space, recruiting staff, and making sure we are established as an employer. The last hugely important part of my job is business development. Spreading the word about OCA in the Netherlands, going to professional events, and looking for ways to expand our business in continental Europe.
My advice to anyone interested in the offshore wind industry would be to keep trying. Although it can be hard to break in with no prior experience, persistence will pay off. I am Czech and having grown up in a landlocked country, it is quite incredible that I now work in what is essentially a marine industry,  but that just goes to show there really is a place for everyone.